NUX Time Core Deluxe Guitar Effects Pedal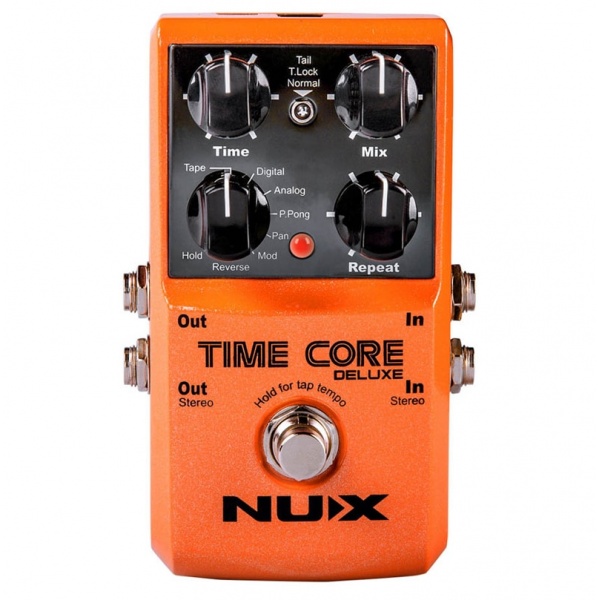 The NUX Time Core Deluxe Guitar Effects Pedal is fully equipped with up to 8 choices of delay including Digital, Analog, Ping Pong, Pan, Mod, Reverse, Hold and Tape. Digital offers a modern digital delay with clear repeats. Analog provides you with a tone of an analog delay that uses bucket-brigade device, and offers a warm and slightly overdriven tone. Ping Pong offers a delay that alternates between left and right outputs, and needs stereo outputs to hear its full potential. The Pan delay simply provides you with a delay that is panned from left to right, and the Mod delay adds a chorus effect on to the repeats. Reverse simply offers a reversed playback effect. Hold is a looper function that allows you to record a 40 second phrase in stereo. Finally, the Tape delay is modeled on the warm echo from a vintage tape echo device. All these delay effects will add depth to your performances, and also eliminate the need for additional pedals with a similar function.
Tone lock is a clever function, that allows you to temporarily freeze the current settings of the knobs, to prevent from accidentally changing your settings during a live performance. This reliable function can be accessed by simple selecting the toggle switch to T.Lock.
8 delay types in one compact unit

Tail On/Off

40 second looper

NUX original TSAC technology

32bit DSP, Hi-performance 24bit 44.1kHz AD/DA converter

Upgraded hardware for ultra-low noise

True-stereo signal processing with auto in/out routing sensing

Tail feature

Tone Lock function for keeping the setting safe on stage

True bypass

USB for firmware update

Powered by one 9V Battery or 9V Adaptor

Controls: Time, Mix, Modes, Repeat

Toggle Switch: Tail, T.Lock and Normal

Power: 9V (9V Battery) AC adaptor (negative tip)

Dimensions: 122(L) x 72(W) x 47(H)mm

Weight: 270g