Nux Masamune Boost & Compressor NBK-5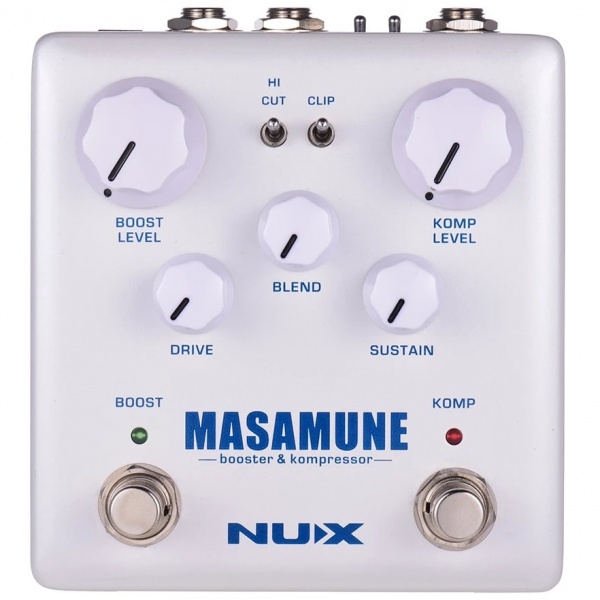 Internally routed guitar booster and compressor. Two analog pedals in one The Nux Masamune combines the effects of boost and compressor in one double pedal with a 100% analog signal. These two effects often overlooked and poorly mastered by guitarists are secret weapons for thickening your signal, compressing it, giving it sustain, or even giving it more clarity and presence in order to stand out from the mix and embellish your sound. allows you to add volume, grain and color to your signal with the level boost and drive controls, as well as the toggle switch hi-cut allowing to cut the high frequencies.
Compressor & booster in one pedal

2 Clip modes and a blend button for parallel compression allow flexible sound design, from unobtrusive dynamic control to squeezed, pumping sounds

Controls: Boost Level - Drive - Blend - Comp Level - Sustain

Switch: Hi Cut Clip Mode - Signal Routing

Effect On LED

Bypass Foot switch

Connections: Input (6.3 mm stereo jack) - stereo output (6.3 mm jack) - power supply connection (hollow plug socket 5.5 x 2.1 mm - negative pole inside)

Power supply via 9 V DC power supply unit (not included)

True Bypass

Dimensions (W x D x H): 115 x 105 x 57 mm

Weight: 420 g

Battery operation not possible!